Going Back to School?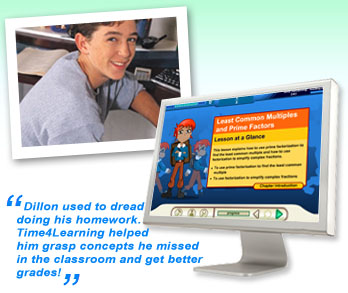 Try Our Lesson Demos
Now is the perfect time to see if a standards-based online education program like Time4Learning could fit into your family's school schedule this year. Thousands of families use it at home to reinforce lessons learned in the classroom, as an afterschool tutorial or as an online homeschool curriculum.
Time4Learning is an excellent back to school option for several reasons:
Time4Learning combines technology and education to make learning fun. One low price includes 24/7 unlimited access, no hidden costs and you can start, stop, or pause at anytime!
Time4Learning Makes Education Interactive and FUN
Students won't feel like they are studying when they use Time4Learning. The colorful characters and exciting animation presents standards-based lessons in the form of interactive activities that feel like video games. And because the program closely follows public school curricula, Time4Learning is a great place to look for extra practice or additional help if a student didn't understand something in the classroom.
Kids Are Not Locked Into One Grade Level
Kids often learn at different rates in different subjects. That's why Time4Learning lets you register kids based on achievement level, instead of locking them into the same grade for every subject. In addition, members get full access to materials in three grade levels for each subject.
For example: You have a child names Suzy who is working at a 3rd grade level in language arts, science and social studies, but she is ahead in math.
For language arts, science and social studies, Suzy can be registered at the 3rd grade level.
In those subjects, she will be given access to 2nd, 3rd and 4th grade materials.
For math, Suzy can be registered at the 4th grade level.
In math, she will be given access to 3rd, 4th and 5th grade materials.
Parents can use the activities from the previous grade level to get their children ready to go back to school. Then the child can simply remain with the program throughout the school year, and use it as a homeschool curriculum, tutoring program, or homework helper.
My daughter always liked learning, but Time4Learning has turned "like" into love! I've never seen her so excited to do lessons, before!
It's amazing how quickly my kids are learning difficult concepts. The animation really helps them apply the lessons to something tangible!
Reports Help Parents Identify Areas to Focus On
Parents are given detailed reports that make it easier to spot areas that your child might be having trouble with. This gives you more time to work on them before your child goes back to school. There is no need for a child to start the year off already frustrated, when concepts can be mastered at home in an entertaining fashion via Time4Learning's online learning system
This is also a helpful during the school year because Time4Learning teaches concepts… not just formulas. When testing is around the corner, it offers a great way to hone in on trouble areas and help your child "fill in the gaps" when things don't make sense to them. Sometimes all a child needs is to understand "why" in order to understand "how."
Printable Worksheets Allow Lessons to be Taken Offline
Time4Learning has hundreds of back to school printable worksheets that parents can access if they want to take some of the lessons on the road or just across the room to a desk. These printable worksheets are designed to reinforce the online material and can be printed and completed any time. Although most students prefer doing their work on a computer, some students learn better when they can see and answer lessons that are in print. Time4Learning caters to both of these types of students.
Convenience, Flexibility and Ease of Access
Time4Learning provides flexibility, in that students have 24/7 access from any computer with internet. You can have your child complete a few lessons before lunch and a few more after practice It is a cinch to squeeze those back to school activities in when you are free to work around your own schedule.
Time4Learning math lessons are presented in sequential order using small chunks of information at a time. Each of the subjects has a complete set of lessons and activities that promote independence. An arrow will point to the next lesson on the list so students will always know which activity comes next. All the child has to do is follow the arrow and click on the next lesson. Of course, children have the flexibility to repeat any lessons that they didn't fully grasp. The reverse is also true. Advanced students are free to skip ahead if they desire a more challenging lesson.
Key Features of Time4Learning's Home Education Program
Time4Learning.com combines 1500+ multimedia lessons, printable worksheets and graded activities in a student-paced environment that brings concepts to life. Math and language arts lessons are correlated to state standards. Science, social studies and art are also provided to most grades.
Parents get access to lesson plans, printable worksheets, teaching tools (located in the Parent Dashboard), detailed reporting and parental support through our online Parent Forum.
Other key features of the program:
Students get individual logins and work on their own schedule and pace
Parents can set the grade level independently for each subject
The grade above and below are available in most grades for review and additional study
Detailed lesson plans available for parents who wish to review lesson contents
Access to an online playground that rewards and motivates
An automated system grades lessons and keeps reports for homeschool portfolio usage (shown below)
Sign up and get started on the same day!
Time4Learning is entirely web based, so there is no software to download, no CDs and nothing additional to purchase. Students will be able to access the program 24/7 from any computer with an internet connection.
Time4Learning offers a 14-day money-back guarantee and the ability to stop, start, or pause anytime. Browse lesson plans, try the interactive lesson demos, read curriculum reviews, or view the curriculum overview to see what's available.