Going Back to Homeschool?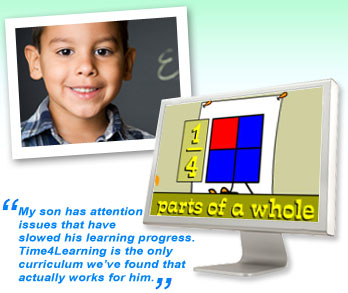 View Our Lesson Demos
Parents want the school year to start out right. Are you looking for printables, lesson plans, and back to school ideas on how to make sure your children start the new school year out right?
Parents have struggled for years with different approaches for helping their children build and reinforce their language arts and math skills. With the increased pressures from standardized tests, the need to stay up with the class is more important than ever. But how do you help your children reinforce the skills they learned last year and get a jump start on this new school year? The answer is right in front of you.
You can jump to the following profiles/sections:
Choosing the Right Back to School Resources
The computer and internet have become valuable tools for parents, especially when it's time to go back to school. Have you noticed how much your children like using the computer? Online learning can help children excel at these core subjects since today's online, educational games and learning software blur the distinction between games and lessons.
Why Create Your Own Back to School Lesson Plans and Printables or Pay for Expensive Tutoring?
The computer and internet is your channel for easy-to-use, low cost, effective skills building for preschool through high school.
How can online learning programs help preschool and kindergarten children in language arts? Online games offer younger children a chance to develop phonological awareness, master phonics, and start to develop their own interactive stories and writing skills. As kids grow, so should their reading comprehension and grammar skills. Online elementary games offer kids an opportunity to explore language arts while having fun.
How can kids' math games help ensure success at the early ages? The basics of math start with the concepts of quantity, sequence, features of an item and set, and basic geometry. Early online education teaches children to recognize shapes, to sort items into sets based on features such as color, size, and shape, to recognize and create a sequence or pattern, and to count and recognize the numbers up to 10. Kids' math games can help children develop a solid math foundation and make math fun.
Ensure Back to School Success for the Whole Family
For families with more than one child, getting ready to go back to school can be even more problematic. What works for one child, doesn't work for another. Material that works one year, may not work the next. Many children don't want to see last year's text books again, but the new school year is still too hard for them to move on. Time4Learning tries to make the review of last year's material easy by providing an online learning system that can be followed sequentially or in any random order. Our online, interactive educational materials offer each child their own learning path that is measured by their educational needs. Sign up for Time4Learning, and have your own personalized resource for learning at home. See the demos.
The Best Back to School Home Education Resource
Time4Learning knows how important choosing educational materials is for your children and how maddening the research can be, especially during back to school time. However, our experience shows that there is no single, best homeschool material. Rather than feeling torn between homeschool resources, parents should create diversity through activities. Children need a mix of different activities to hold their attention. Each learning style and method should be applied to exercises, making sure that a child isn't forced to sit through a particular activity for more than an hour.
Home Education Computer Opportunities: "Back to School Supplies"
What types of educational teaching games are available?
Learning Games on CDs – These can be bought in most stores and are a lot of fun with some of the educational components included. The downside is that most "learning games" tend to be more game than lesson. An upside is that CDs work even when there's no internet access.
Free Educational Game Sites – There are a lot of websites with "learning and games". But, these sites can be very commercial. Some even invite children to download games which contain spyware and viruses. These sites are similar to CDs in that they tilt towards games with limited educational substance.
Free Learning Sites – Free learning sites range from those that provide worksheets to those with interactive exercises. But it is left to the parent to provide continuity, determine progress, and to assemble an overall program.
Time4Learning.com – This subscription service teaches children math and reading skills systematically. Time4Learning tracks the children's activities and provides them with an effective sequence. Time4Learning also has reports for parents and games for kids included in the $19.95 monthly fee. Learn More or Sign Up Now.
Computer-based learning blurs the line between learning and games. Educational games that are fun for kids reinforce lessons and can teach new reading and math skills. Sometimes kids learn better using interactive educational teaching games, because there's more concentration and more fun.
So gain access to a variety of educational materials, which will engage and challenge your child to succeed. Make Time4Learning a part of your children's home education resources. Sign up for Time4Learning, and have your own personalized resource for learning at home. See the demos.
Time4Learning is vibrant, engaging, educational, and funny. It sure beats our previous homeschool curriculum which was textbook/workbook based.
Time4Learning is so effective that very little intervention is required. This works great if you're homeschooling multiple children.
Key Features of Time4Learning's Home Education Program
Time4Learning.com combines 1500+ multimedia lessons, printable worksheets and graded activities in a student-paced environment that brings concepts to life. Math and language arts lessons are correlated to state standards. Science, social studies and art are also provided to most grades.
Parents get access to lesson plans, printable worksheets, teaching tools (located in the Parent Dashboard), detailed reporting and parental support through our online Parent Forum.
Other key features of the program:
Students get individual logins and work on their own schedule and pace
Parents can set the grade level independently for each subject
The grade above and below are available in most grades for review and additional study
Detailed lesson plans available for parents who wish to review lesson contents
Access to an online playground that rewards and motivates
An automated system grades lessons and keeps reports for homeschool portfolio usage (shown below)
Sign up and get started on the same day!
Time4Learning is entirely web based, so there is no software to download, no CDs and nothing additional to purchase. Students will be able to access the program 24/7 from any computer with an internet connection.
Time4Learning offers a 14-day money-back guarantee and the ability to stop, start, or pause anytime. Browse lesson plans, try the interactive lesson demos, read curriculum reviews, or view the curriculum overview to see what's available.