Educating Children with Autism Using an Online Curriculum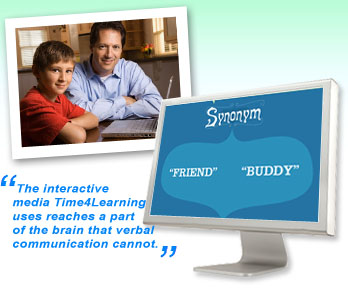 Try Our Lesson Demos
Parents of children with autism often prefer to have an active role in their children's education. It is common for parents with autistic children to homeschool at some point when appropriate educational institutions cannot be found. Even when schools do provide appropriate education, providing reinforcement and support for education can be an exhausting task for parents.
Many families with children on the autism spectrum have found Time4Learning to be a great contribution to their children's education. Read more about:
Educating Children With Autism
A large number of highly functioning autistic students successfully use Time4Learning. Children with autism can benefit from the online curriculum for many reasons, including:
Language Skills – Time4Learning provides an engaging multimedia approach to building linguistic skills which are often difficult for children with autism to acquire. Unlike simple "learning games", Time4Learning provides a comprehensive language arts program starting with simple vocabulary, verbal comprehension, and following basic instructions.
Computer-Based Instruction – A computer provides an outlet for learning that many children with autism can benefit from as it provides an opportunity to remove stress and overstimulation from too much social interaction. An online curriculum like Time4Learning provides immediate feedback to students and positive reinforcement that keeps them engaged and motivates them to do their best.
Student-Paced – Students can progress through Time4Learning at their own pace. Additionally, students can be placed at different levels for language arts and math. Students also have the freedom and flexibility to repeat and/or skip lessons, and thereby work at a pace that they are comfortable with.
Social Skills – Beyond the academic aspects of Time4Learning, parents of children with autism have commented that the lessons model proper conversation and interactions. For instance, many of the elementary school math lessons start with a short conversation between two cartoon characters. Typically, one asks a question, the other explains the answer and this serves as an introduction to the lesson. The first character then thanks the second for the information. This peer interaction helps children with autism understand and learn typical social skills.
What do Children With Autism Need?
There is no one, simple answer to this question. In fact, experts don't always agree on the best treatment for a single case. Putting aside these debates and focusing on the question of education, children with autism appear to benefit from early educational intervention with an emphasis on helping them acquire language skills and mastering basic social interactions. While speech pathologists, parent-led therapy, and intensive language courses appear to help, most children benefit from daily intensive language work which is usually beyond the logistical and financial ability most parents can provide. Time4Learning oofers a home-based, low cost, effective method to supplement these others therapies.
Finding the Right Educational Mix
Whether your local public school delivers on the commitment to provide an adequate education or not, parents of children with autism need to be deeply involved in their children's education. Many parents find that homeschooling offers a more personalized approach that allows their children to thrive. Even when schools do provide an appropriate education, providing reinforcement and support at home can be an exhausting task for parents if they don't have the right tools and resources.
Many Children With Autism Like Learning on the Computer
Time4learning is a comprehensive curriculum that allows children to move through the lessons at their own pace. The lessons are brief and interactive, and children learn as they are engaged. Each lesson completed on Time4learning offers children a sense of achievement. The lessons provide positive reinforcement without the kind of pressure that can trigger stress in children with autism. There are no set lesson times, so children can log onto the system and resume learning at any time.
Time4Learning explains the concepts and gives clear-cut examples. Even in her "old age" she enjoys completing her lessons and earning time in the "playground."
In algebra, students learn how numbers are represented using letters in algebraic expressions.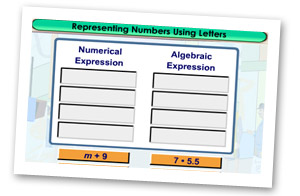 Curriculum Feedback from Parents with children with autism
Eileen, mother of a child with mild autism, says:
Let me begin by saying that so far my 1st grade son enjoys your Time4Learning program and looks forward to his online lessons. We are a homeschooling family – doing so because our son has mild autism. I am using your program to supplement other math and language curriculums we have purchased. I am very impressed with your subject offerings which greatly enhance what I am teaching.
Brian and Lydia, parents of an Autistic boy said:
My son is autistic. Many kids are, and are in specialized programs due to their specific needs. Reilly was mainstreamed, and for a few years he did wonderfully. Unfortunately, in the mainstream world, one can come across a teacher who isn't necessarily familiar with the needs of an autistic child. This has happened to us a couple of times in Reilly's education, and I decided to pull him from "regular" school and use Time4Learning as a curriculum that might suit his needs. It did more than his father and I hoped for. Reilly is now enthusiastic about learning each and every day, and has shown a love for language arts that I fervently believe only Time4Learning could have instilled in him. We never see the tantrums and meltdowns that we saw as he attended mainstream class, and are enjoying the ability via your hard work and effort to really and actively participate in his education. We appreciate the opportunity; but more so, we appreciate the time you have put into making the opportunity for it happen.
Key Features of Time4Learning's Home Education Program
Time4Learning.com combines 3500+ multimedia lessons, printable worksheets and graded activities in a student-paced environment that brings concepts to life. Math and language arts lessons are correlated to state standards. Science, social studies and art are also provided as a bonus to most grades.
Parents get access to lesson plans, printable worksheets, teaching tools (located in the Parent Dashboard), detailed reporting and parental support through our online Parent Forum.
Other key features of the program:
Students get individual logins and work on their own schedule and pace
Parents can set the grade level independently for each subject
The grade above and below are available in most grades for review and additional study
Detailed lesson plans available for parents who wish to review lesson contents
Access to an online playground that rewards and motivates
An automated system grades lessons and keeps reports for homeschool portfolio usage (shown below)
Sign up and get started on the same day!
Time4Learning is entirely web based, so there is no software to download, no CDs and nothing additional to purchase. Students will be able to access the program 24/7 from any computer with an internet connection.
Time4Learning offers a 14-day money-back guarantee and the ability to stop, start, or pause anytime. Browse lesson plans, try the interactive lesson demos, read curriculum reviews, or view the curriculum overview to see what's available.