Educating A Child With Asperger's Syndrome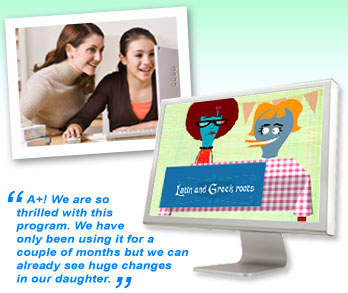 Try Our Lesson Demos
If you are the parent of a child with Asperger's Syndrome, you have probably already been met with some educational challenges.
Children with Asperger's Syndrome have educational and social struggles in school. Each child has different academics strengths and needs. In addition to subject matter, they have to adapt to a classroom along with an array of interactions and stimulations, all of which prove to be a challenge.
Children with Asperger's Syndrome are often visual learners. They often have poor fine motor skills and writing is often a chore. Their math and language arts skills are often at different levels. They often learn routine social interaction behavior from observing others or through explicit instruction. Children with Asperger's Syndrome need a highly structured education plan.
A computer based curriculum may be part of the educational answer for children with Asperger's Syndrome.
Time4Learning is an online interactive curriculum used for homeschooling, after school reinforcement, or summer study. Time4Learning is student-paced and the levels of the subjects can be set independently. The comprehensive curriculum covers preschool to high school. Time4Learning is automated so over-worked parents can relax knowing their child is getting a quality educational experience without their immediate hands-on involvement.
Many families who have a child with Asperger's Syndrome have found Time4Learning to be a great contribution to their children's education.
Unsuspected Struggles
Many parents are surprised when their bright children struggle in school. Often seen as "little professors", they are assumed to be "brilliant" and "bright beyond their years." This is not always the case. A child with Asperger's Syndrome may read, calculate numbers, or do other concrete work at advanced levels, but when it comes to abstract thinking and social navigation, they struggle.
Asperger's Syndrome is part of the Autism Spectrum. It is characterized by poor social interactions, obsessions, odd speech patterns, and other peculiar mannerisms. Although children with Asperger's Syndrome have an average to above average intelligence, they sometimes have specific learning issues and difficulty reading the body language of others. They also tend toward obsessive routines, unusual special interests or preoccupations, and sometimes display a sensitivity to sensory stimuli (for example, they may be bothered by a light that no one else notices; they may cover their ears to block out sounds in the environment; or they might prefer to wear clothing made only of a certain material).
Other Asperger's Syndrome characteristics include gross and fine motor skill delays, which are often exhibited as a general clumsiness. Overall, students with Asperger's Syndrome are capable of functioning in everyday life, but tend to be somewhat socially immature and may be seen by others as odd or eccentric. One mother says, "It is sad to know that my son has never been invited over to play at another boy's house. He is picked on at school, can't play team sports, and really has no friends at all outside of his family." Many children with Asperger's Syndrome struggle in the traditional school setting. Often students' special educational needs are not recognized, and they end up with poor grades, poor social relationships and a devastated self esteem.
Asperger's Syndrome and a Special Education Plan?
Time4Learning has a number of homeschool students with Asperger's Syndrome (AS). Their parents have selected Time4Learning as an effective way to teach them a range of skills. Beyond praising the academic strengths, which include a visual and interactive teaching method, parents have commented that the lessons model proper conversations. This helps children with Asperger's Syndrome visualize and internalize standard interactions between individuals. For instance, many of the elementary math lessons are introduced with a short conversation between two cartoon characters. Typically, one character asks a question, and the other explains the answer. Modeling typical peer interaction for children with Asperger's Syndrome has proven to be a strong method for teaching them how to relate to others.
Homeschooling Our Child With Asperger's Syndrome
"New to the concept of homeschooling, it became immediately apparent to us that if we were to remove our children from the traditional schooling system, we were bound to provide an educational experience that not only rivaled what could be learnt in a traditional classroom but better it still. It was at this juncture that Time4learning system became an important partner in the education of our children.
Time4learning is a thorough curriculum that allows children to move through the lessons at their own pace. The lessons are short and fun. Children learn and are engaged by what is presented without stress or boredom. Each lesson completed on Time4learning gives our children a sense of achievement. The lessons provide positive reinforcement without the kind of pressure that can trigger stressful episodes in children with Asperger's. There are no set lesson times, our children can log onto the system and resume learning at any time, the kind of flexibility that is priceless to a parent of a child with a pervasive developmental disorder.
Time4learning's comprehensive language arts program has helped us to bridge the gap between the look/say method our children used to learn to read, and the phonics training they needed to become better readers still. After using Time4learning successfully for over a year, to date this is one set of lessons that my children actually request to do.
Time4learning really does make learning easy and fun and I would recommend it to anyone." – Paula, Parent of an Asperger's Child
More Praise for Learning at Home With Asperger's Syndrome
"Elizabeth really enjoys the website. She especially liked the language sections (stories, family trees, etc). She also found it easy to use. It is very good for children with Asperger's, as they are such visual learners and the computer gives prompt feedback."
– Marianne, Mother of a fourth grade girl with Asperger's Syndrome.
"Let me begin by saying that so far my 1st grade son enjoys your Time4Learning program and looks forward to his online lessons. We are a homeschooling family – doing so because our son has mild autism. I am using your program to supplement other math and language curriculums we have purchased. I am very impressed with your subject offerings which greatly enhance what I am teaching…."
– Eileen, mother of a child with mild autism.
"I would tell any parent of a child with Asperger's Syndrome to give Time4Learning a try, even if their child goes to school. We homeschooled our Asperger's son for a few years and he greatly enjoyed Time4Learning. When he went back to school this past year, he asked if he could keep doing his Time4Learning lessons. Of course he still enjoys them, and does them regularly."
– Sylvie, mother of a third grader with Asperger's Syndrome.
Click for more information and demos. Or to ask other parents, click through to the Time4Learning parent's forum.
Time4Learning has helped thousands of children. Help yours today. Sign up for Time4Learning and gain access to a variety of educational materials, which will engage and challenge your child to succeed. Make Time4Learning a part of your learning disabilities educational resources.