Tutoring Alternative Solutions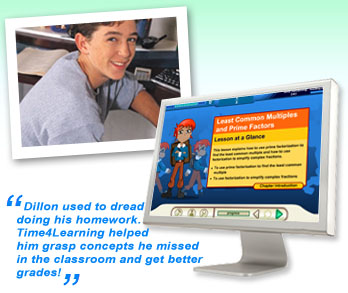 Try Our Lesson Demos
All children learn at different paces and have unique learning needs, many of which may not be met in a traditional classroom. When parents begin to notice changes in their students' grades and gaps in their learning, many families often turn to tutoring centers.
Top 6 Reasons Children Require the Help of a Tutor?
Students fall behind in their schoolwork
Difficulty in a particular subject
Learning disabilities or difficulties
Needs reinforcement of lessons being taught in school
Preparing for a standardized test
Sharpen skills during the summer months
Traditional Tutoring Centers
Traditional tutoring centers may not always be the best option when a child is in need of a private tutor. Some tutoring centers require that a student stay in a lesson until it has been mastered. Students cannot continue on in their studies until they successfully pass the test for that specific lesson. Sometimes, this may actually cause the student to fall behind even more.
Another problem arises with tutoring centers that require a child to take an actual SAT/PSAT or ACT exam. These private tutors focus on correcting the reported problem areas that show up on the exam results.
Finally, many of the traditional tutoring centers provide private tutoring for math and grammar only and not for any of the other school subjects such as science and social studies.
My children's favorite part of the day is their time on Time4Learning. This is the easiest and most consistently productive curriculum we've used!
My kids can work independently or with my involvement. Time4Learning has enriched their education and simplified my life!
Personal Home Tutors
Although private home tutors will work on the areas of instruction you request, they are not regulated. Tutors may not have a degree, professional credentials or even teaching experience. There is no guarantee that the home tutor will be able to quickly identify why your child is having trouble or determine what technique should be applied to help the student. Parents that use personal home tutors may also find a fluctuation in rates, as well as schedules that are based on what is most convenient for the private tutor.
Online Tutoring with Time4Learning
Time4Learning provides activities, lessons, assessments, reports, and educational games, making it a valuable resource for parents and students. Parents can be kept informed on their child's' progress daily and are able to adjust levels so that the program addresses specific needs and areas of interest.
For convenience purposes, lessons are completed at the discretion of each family. Parents and children decide when, how long, and which lessons to do. With the ability to skip, review and build upon lessons, children are given ongoing support while gaining independent work study skills. Many parents find Time4Learning an excellent program that provides continuity and fun while engaging students in their learning.
Time4Learning can be accessed anywhere for homework help; you only need an Internet connection.
Time4Learning gives students access to an entire year's worth of the curriculum for their grade level. All you need to do is take a look at the lesson plans to find the corresponding lesson they need homework help with.
Time4Learning's low monthly fee gives students access to online tutoring lessons in as much time as they need The cost is still the same regardless of how often you use it.
Time4Learning allows for parents involvement. Each online tutoring session records and stores grades in the Parent Dashboard. Printable worksheets are also available for parents to use with their child to provide more homework help.
Students that utilize Time4Learning are provided with a full year's worth of online tutoring material. This gives students the opportunity to work on other lessons in their studies after catching up on their school work.
Time4Learning provides discreet private tutoring for children who may be embarrassed about needing a little extra homework help. Online tutoring can take place in the child's bedroom at his computer desk or in the family living room.
Parents of homeschoolers find Time4Learning's tutoring program reduces frustration and increases student excitement for learning. Animated explanatory lessons provides students with tutoring for subjects they may not understand under their parent's' instruction.
The Time4Learning Program Structure
Time4Learning has been refined through years of feedback from educators, parents and students. Subjects are organized into chapters composed of interactive lessons, printable worksheets, quizzes and tests. Students are guided through the activities at their own pace by an automated system.
Visual and auditory prompts guide students through the lessons, making them easy for young learners to follow, and an online playground, controlled by parents, rewards and motivates them to finish their lessons.
Parents get access to printable lesson plans, teaching tools, detailed reporting and parental support through our online Parent Forum.