ADD / ADHD Teaching Challenges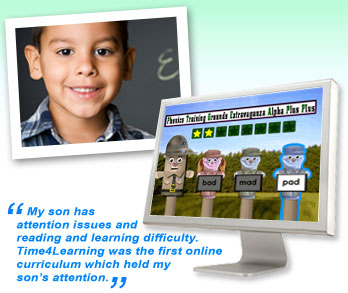 Try Our Lesson Demos
If you are the parent of a child who has been diagnosed with Attention Deficit Hyperactivity Disorder, congratulations! You probably have a child who is highly creative and inventive. People diagnosed with ADHD have been known to score high on creativity tests.
However, parenting a child with ADHD is not easy. Children with ADHD often struggle in school, and providing what these children really need is often a challenge. A child with ADHD may struggle with learning disorders, teasing, social interaction, problems at home, disorganization, and more. Often the struggle of the school environment overwhelms the child's ability to learn.
A Learning Tool that Works with ADHD
Children with ADHD can benefit from a specialized education plan that includes Time4Learning. Our "outside-of-the-box" approach to learning offers your child a refreshing change from sitting in a classroom or at a table reading textbooks. In a home setting where school bells, background noise and other distractions don't exist, students can work through the learning system without pressure. The program lets them go at their own pace, repeating the lessons as needed. This approach gives students a feeling of independence and sense of ownership over their progress, which is a great motivator and confidence builder. Exercises are shorter than classroom lectures, so kids with ADHD can take breaks more often, "reboot", and come back to the material refreshed.
Time4Learning's program has been refined through years of feedback from educators, parents, and students. Our unique approach facilitates learning for students with ADHD. The learning activities are presented via animated, interactive, multimedia lessons that feel more like video games than learning exercises. The funny sound effects and quirky cartoon characters delivering the lessons keep students engaged while they work through individual learning paths that are created based on skill mastery rather than grade level. Throughout the lessons, students are prompted with questions, both to make sure that they are paying attention and also to be sure that they're understanding the material. Printable worksheets, graded activities and assessments reinforce the content to maximize retention.
Because Time4Learning understands that students perform differently in different subject areas:
Students will not be locked into one grade level for all subjects. Many Time4Learning students find themselves in one grade level for Math, and a different grade level for Language Arts.
Students will be given access to curriculum a grade level above their placement (for enrichment), as well as a grade level below (for review).
If at any point the work in a given grade level seems too challenging or not challenging enough, parents can easily make adjustments to a more comfortable learning level for their child.
Attention Deficit Hyperactivity Disorder Facts
Attention Deficit Disorder is a developmental disorder that affects about 3-5% of children. It is usually discovered by elementary school, and is characterized by a persistent pattern of inattention and/or hyperactivity, as well as forgetfulness, poor impulse control, and distractibility. Over the past ten years, ADHD has been increasingly diagnosed in adults. About 60% of children diagnosed with ADHD retain the condition as adults.
Many parents find themselves at a loss with what to do with their ADHD child. Some believe it is their own fault, and end up struggling with guilt, while at the same time, feel frustrated with their child's behavior. One mother says, "My daughter made me so mad. I can't tell you how many times I punished her for things that I now know weren't really her fault. She had so many lost library books, and missing homework assignments. Her teachers all told me she would be a great student if she would just focus."
Many parents are reluctant to medicate their children, although it is a common form of treatment of ADD/ADHD. Children with ADHD benefit from daily exercise, and sports activities, as well as mini-breaks during the school day.
Homeschooling with ADHD – A Parent's Success Story
Hello, my name is Tamika and this is the testimony of my son J and Time4Learning, one of best things to happen to our family!
My son J was having extreme difficulty learning. Shortly after his entering school in Arizonia, my husband and I were devastated when we got a call from his teacher. It seemed his doing assignments and his behavior were a big problem. His teacher actually said that in her opinion, J was functioning at a three year old level. We knew this couldn't be true.
They placed J in a smaller class, but there were still too many distractions. However, the new teacher made this discovery; our son was very capable of learning and doing his work, especially during computer hour and while he was taught one-on-one. We held a meeting but the school was not staffed for one-on-one learning, so they placed him in the k-6 online program using Edgenuity.
Delivered From Distraction – Getting the Most out of Life with Attention Deficit Disorder
After his assessment test, J's teachers were amazed. He had scored above the requirements! This is after being diagnosed with developmental delays, ADHD and oppositional behavior. He went from being classified as "functioning as a 3 yr. old" to scoring 80, 90, and 100% on all his assignments. We were thrilled! Not only was our son able to focus on his work, he was able to retain the things learned. As parents, we could adjust the level of learning to suit his needs.
Our family moved back to Michigan and we needed to find a way to use the program. Edgenuity only sells to schools. We were at a lost as to what to do for our son's core curriculum. We had a letter written in our behalf from his former school principal in testimony as to how great the program worked for our son given his special needs, urging anyone that could to help provide the program to our low income family. We were then directed to Time4Learning.com, and our worries were over.
ADD/ADHD – Learning and Succeeding
My son is delighted to be using the program. The Time4Learning program is so easy to use, fun, affordable, and even better than the previous version. J actually has to be reminded that his class time is over for the day, because he wants to stay on past his school time! It's not just with J. I am in a big circle of home schooling parents as well as parents that have children with disabilities like RAD, ADHD, ODD, Asperger's and Autism. I've had children over and have allowed them to watch J doing his assignments using Time4Learning, and all we hear from the other children is, "Can I have a turn?" (delete)
Their parents are always amazed at how excited the children get about it, and that we can even access it from their computer, or virtually anywhere. Several of my friends and relatives with children in public school, still see the benefit of using the Time4Learning program to supplement their child's curriculum. Once they actually heard that it was available, and saw for themselves, we didn't have to say more. Time4Learning speaks for itself. We plan on using the program for our next child as well. It is truly a joy to see our child go from 'struggling' to 'excelling', and to hear him say "Is it Time for Learning yet, Mommy?" Thank you so much for this blessing!
Tamika
Time4Learning has helped thousands of children. Help yours today. Sign up for Time4Learning and gain access to a variety of educational materials, which will engage and challenge your child to succeed. Make Time4Learning a part of your learning disabilities educational resources.