CompassLearning Odyssey® – ChildU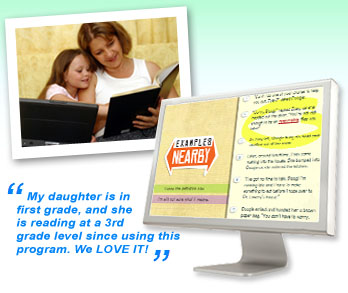 View Our Lesson Demos
CompassLearning Odyssey or ChildU (previous name) is provided to home users within the Time4Learning System. CompassLearning Odyssey or ChildU is an innovative, research-based educational technology.
With more than 30 years of experience in the field of research-based instructional technology, Child U or CompassLearning delivers standards-based assessment, standards-aligned PreK-12 curriculum, and comprehensive data reporting for improved student achievement.
Were you using CompassLearning or ChildU before? We have answers for your questions.
Click here to learn more about Time4Learning.
Sign Up Now with a money-back guarantee for Time4Learning.
You can jump to the following profiles/sections:
Highly Respected
A member of the WRC Media family, Child U / CompassLearning's sister companies include Weekly Reader®, World Almanac® Education Group, and American Guidance Service. Products from WRC Media companies are now found in 90 percent of school districts nationwide, in nearly all public and private libraries, as well as in nine million homes.
ChildU / CompassLearning and the other members of the WRC Media family are there, whenever and wherever learning occurs … to inspire students and educators to explore and achieve.
ChildU / CompassLearning continues to be on the leading edge of integrating technology into research-based curriculum to meet today's stringent federal and state requirements and to promote high student achievement. Unsurpassed professional development and technical services enable seamless integration into classroom instruction for maximum results. CompassLearning has programs in more than 20,000 schools and serves approximately 10.6 million students nationwide.
Better Research
CompassLearning delivers scientifically-based and validated assessment and curriculum solutions that incorporate the latest research, current instructional pedagogy, and best practices. When developing new solutions and updating current products, CompassLearning calls on the expertise of nationally recognized experts in the respective national curriculum organizations.
All products undergo a rigorous evaluation process prior to release to ensure they meet high quality standards as well as current achievement and accountability requirements. This extensive evaluation includes external and internal review by experts and field testing with teachers and students from around the country. After products are released, they undergo an external review process to determine their effectiveness in improving student achievement.
Time4Learning is vibrant, engaging, educational, and funny. It sure beats our previous homeschool curriculum which was textbook/workbook based.
Time4Learning is so effective that very little intervention is required. This works great if you're homeschooling multiple children.
Better Technology
Versatile delivery systems promote anytime, anywhere learning, increasing parent involvement by providing students and their families with access to quality curriculum, instruction, and innovative learning tools after school, in labs, and at home. Taking advantage of the latest instructional technology innovations, our solutions support a variety of instructional strategies, learning styles, and reporting requirements.
Better Products
ChildU / CompassLearning assessment and management solutions prepare students for high-stakes testing by diagnosing their strengths and weaknesses on the same skills tested on state and national assessments and then prescribing personalized learning paths to help them meet critical standards. Our technology-powered solutions ensure students, educators, and parents have the data they need to make informed decisions about how to provide the optimum learning environment for every student.
ChildU's Odyssey curriculum is based on scientific research, pedagogically sound instruction, and proven best practices. Self-paced, project-based activities engage students in their own learning through challenging, interactive, project-based activities that promote exploration, individual and cooperative learning, problem solving, reflection, and real-world connections. Real-time assessments provide continuous feedback so students know how they are performing at all times.
Better Service
We back our solutions with an energetic, knowledgeable, professional workforce dedicated to providing the highest quality products, service, professional development, and technical assistance to our customers. Our depth and breadth of content, loyal customer support, and technical expertise combine to ensure the most effective learning environment geared to meet each customer's specific needs.
Better Results
Built specifically for the Web, ChildU / CompassLearning Odyssey solutions are designed to promote student achievement through better integration of technology into the classroom, better assessment of student learning, better reporting of student performance data and better technical service for improved student achievement and consistent annual yearly progress.
Key Features of Time4Learning's Home Education Program
Time4Learning.com combines 1500+ multimedia lessons, printable worksheets and graded activities in a student-paced environment that brings concepts to life. Math and language arts lessons are correlated to state standards. Science, social studies and art are also provided to most grades.
Parents get access to lesson plans, printable worksheets, teaching tools (located in the Parent Dashboard), detailed reporting and parental support through our online Parent Forum.
Other key features of the program:
Students get individual logins and work on their own schedule and pace
Parents can set the grade level independently for each subject
The grade above and below are available in most grades for review and additional study
Detailed lesson plans available for parents who wish to review lesson contents
Access to an online playground that rewards and motivates
An automated system grades lessons and keeps reports for homeschool portfolio usage (shown below)
Sign up and get started on the same day!
Time4Learning is entirely web based, so there is no software to download, no CDs and nothing additional to purchase. Students will be able to access the program 24/7 from any computer with an internet connection.
Time4Learning offers a 14-day money-back guarantee and the ability to stop, start, or pause anytime. Browse lesson plans, try the interactive lesson demos, read curriculum reviews, or view the curriculum overview to see what's available.